MicroLIBS sensors for robotic planetary and astrobiological exploration missions (ROBIM)
PN-III-P4-ID-PCE-2020-0332/ 04/01/2021- 31/12/2023
Contracting authority: Executive Unit for the Financing of Higher Education, Research, Development and Innovation (UEFISCDI)
Name of the Program in PN III: P4 - Fundamental and frontier research Project type: Exploratory Research Projects, Budget 1.171.032 lei (~240.220 euro)
Project Manager: Assoc. Prof. PhD. Habil. Silviu-Octavian GURLUI
The ROBIM project MicroLIBS sensors for robotic planetary and astrobiological exploration missions is focused research, to design and validate miniaturized equipment able to working in exploratory space missions with severe constrains (environment gas mixture, pressure, temperature, etc). Our technology is based to enhance the ablative and emissive stage of the plasma by means dual-pulse LIBS in order to enhance the analyte peak-to-base and signal-to-noise ratios, and atoms and ions line spectra. Taking into account the advantage of dual pulse LIBS technology, choosing various wavelengths and a high repetition rate of the lasers, we propose an instrument able to remote the chemical compounds behaviors in various environmental conditions based on the measurements obtained not only by LIBS but also by Raman coupled spectra according to each used laser. The obtained Raman spectra are dependent on time profile of the plasma plume and consequently we enhance the potential of the LIBS to investigate furthermore the phase changes and trace compound especially in the ice/soil mixture samples (depending on the temperature). Following, time-space resolved emissions Raman Spectroscopy is used to measures in a second the elemental compositions of the soil/rock.

Mai objetive:
Creation of a compact instrument, space exploration diagnose techniques to remotely and investigate in severe environmental conditions (pressure, gas, temperature) the chemical composition of some targets using combined LIDAR / LIBS / RAMAN techniques by using combined laser pulses and space-time optical resolved spectroscopy. Increase the knowledge in an inter-disciplinary, up to date field, according to the severe limitations of real space working environment conditions, to find the best solution for detecting particle traces using minimum energies / laser pulse. Raise the standards of the inter-disciplinary basic research, through the co-operation of a critical mass of researchers from different research centres and high education institutes. Improve the performances of the research staff at a national and international level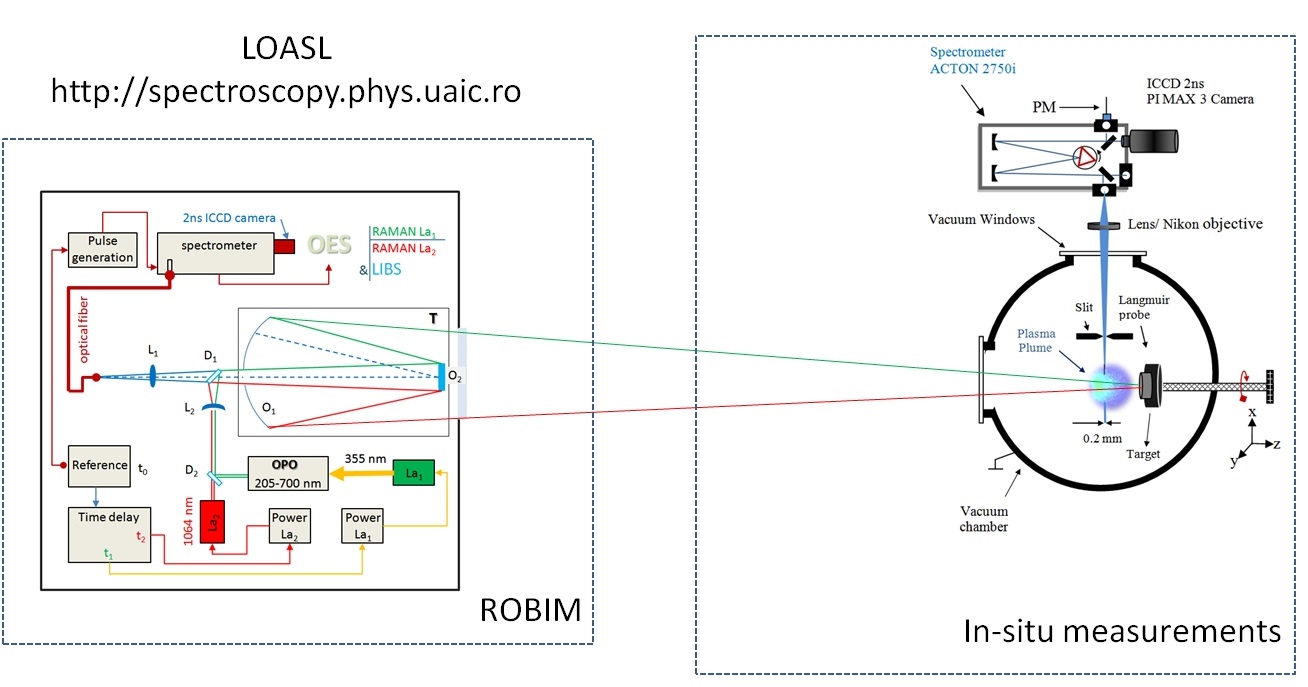 Expected results:
The expected results in the ROBIM project are related to the realization of a strong infrastructure, a new analytical tool used in a variety of severe environmental conditions (terrestrial atmosphere, space missions) able to analyse the traces of gas and soil compounds to identify the composition chemistry, to measure elemental temperature or densities. Experiments aim at a better understanding of the fundamental processes that take place in the evolution of transient plasma laser ablation in a variety of extreme environmental conditions. Although LIBS technology supports a large number of applications, the laser ablation mechanism (which depends on the wavelength, repetition rate, laser pulse width, target type or working gas, etc.) is not yet fully elucidated, especially in extreme conditions, such as those for space missions.